Looking to start an ecommerce business? While there are several categories you can dabble in, gaming is one you shouldn't ignore. This emerging industry is valued at a whopping $203.12 billion and is growing tremendously. Tapping into this potential through an e-commerce business is a fantastic way to increase your revenue and grow immensely.
You can feel pretty intimidated if you're a newbie in the sea of e-commerce startups in the gaming industry. What products should you source? What are some common dos and don'ts as an e-commerce business in the gaming industry? Keep reading to know all of this and more!
Things To Keep In Mind Before Stocking Up For Your Gaming E-Commerce Business
Gaming and e-commerce go hand in hand, and there's no doubt that this trend is only going to continue. After all, who wouldn't want to buy gaming gear and accessories online? In fact, several gaming companies have already launched their own e-commerce stores. If you're thinking of starting your own gaming e-commerce business, it's important to keep these things in mind.
Do Not Make a Deal With the First Supplier You Talk to
You won't need this tip if you've run other businesses before. However, if you haven't, read everything!
Never make a handshake deal or do a contract signature unless you've talked to multiple suppliers for the same product. This is because every supplier has different terms of service, minimum order quantities, and ways of doing business.
You should first check and audit all the major and minor suppliers in the gaming market. Then, choose the one that fits your budget and aspirations the best.
Check for Authenticity
Gaming is one of those industries where the thin line between real and fake is blurred. The same is true for gaming products as well. There are dupes of products from established brands like Corsair and Razer available for pennies on the dollar.
These dupes do not stand the test of time. All they do is give your business a bad reputation amongst customers. So before you start loading your inventory, check every product you intend to buy for authenticity.
Tap Into Communities
As a new company, navigating marketing can be tricky. And when you talk about an industry like gaming, it becomes even more challenging because gamers trust a small group of people belonging to their community. So in order to attract attention to your business, you need to join the community.
Enter the discussions on existing communities on platforms like Reddit to establish some authority there. These platforms are also a great way to know what your customers want the most, their pain points, and how well they respond to products curated especially for them.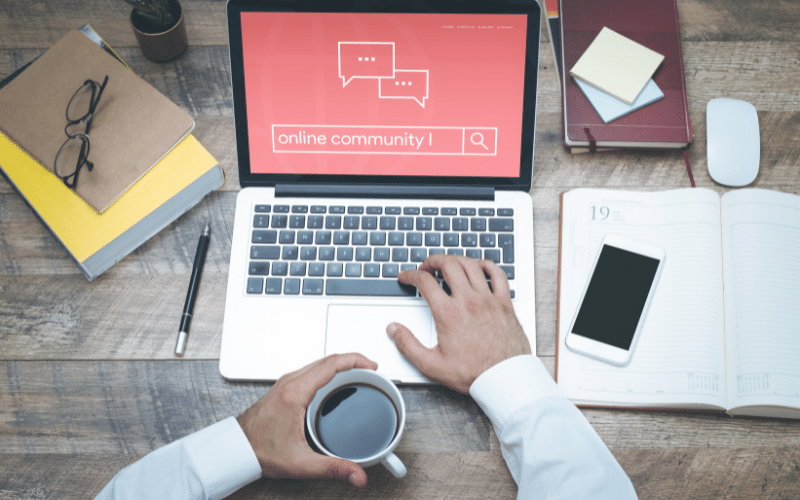 What Gaming Products Should I Source for My Business?
There are a wide variety of products you can sell through your gaming e-commerce business. But to start, here are a few you should definitely stock up on.
1. Gaming Chairs
On average, gamers spend 8.5 hours playing games in a week. Unfortunately, it's not all fun and games because sitting in front of a computer for long periods can have adverse health impacts, including spine damage, bad posture, back pain, etc.
That's where gaming chairs come in to help, and that's why they've become so popular in recent years. Gaming chairs have an ergonomic design to provide appropriate back support and distribute an individual's weight evenly on the chair. Any pro-gamer worth their salt knows the value of investing in a high-quality one.
If that's not enough to convince you of the great need and demand for gaming chairs, consider this: the gaming chair industry is forecasted to grow by over 95 million dollars between 2020 and 2024. The market is ripe, and it's time to pluck your own fruit from it.
Here are the key features you should seek in the chairs you source to sell:
Great Ergonomic Design
Sturdiness And Smooth Rotation
Breathable Material
Cool Colors And Designs
Adjustable Height
The Best Brands To Stock In Your Shop
Secretlab
Logitech
AndaSeat
DXRacer
You can source a wide variety of both cheap and expensive gaming chairs. Leather ones are the most expensive but the most comfortable and fairly in demand. Cheaper alternatives made of PVC or PU leather are also excellent options. Don't forget to source more breathable and sustainable mesh chairs.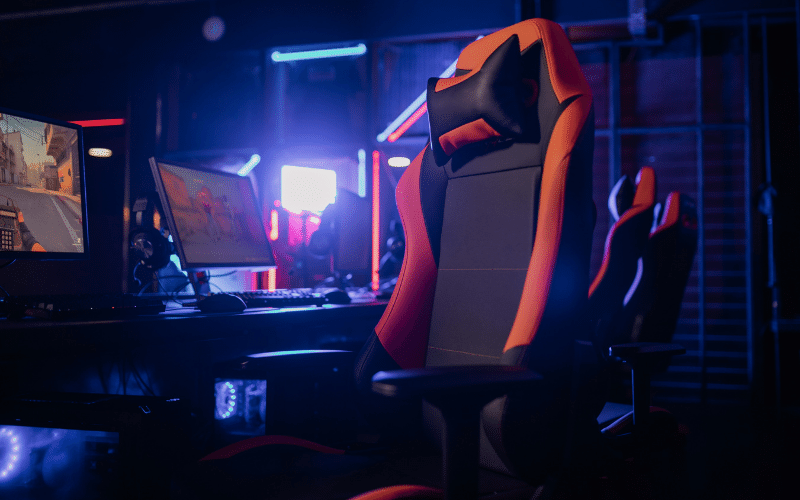 2. Gaming Laptops
Although expert gamers prefer desktops over laptops any day, there are times when flexibility and portability take the front seat. That's precisely when gamers look for gaming laptops.
Gaming laptops should have a powerful enough CPU or battery to handle the load a game like Red Dead Redemption or Forza can put on the system. It should also not heat up quickly and have sufficient memory to allow you to store games on the drive. When sourcing gaming laptops for your business, you should try to look for the following additional features too:
High-Performance CPUs
Silent Fans
Reasonable Refresh Rate, Preferably Above 144hz
Long Battery Life
More USB And Other Ports To Allow Plug-In Devices Like Keyboards And Mice.
The Best Brands To Stock In Your Shop
MSI
Dell Alienware
Asus – ROG, Tuf
Lenovo – Legion
Razer
HP – Omen, Victus, Pavilion Gaming
Acer – Nitro, Predator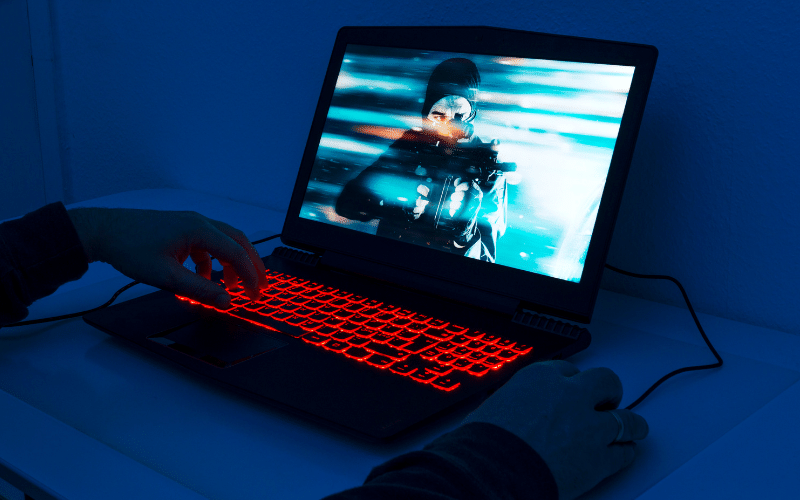 3. Gaming Monitors
This is again a pretty obvious option. Any gaming PC is incomplete without a high-quality monitor with the best specs. You should source gaming monitors with at least the following features:
A Minimum Resolution Of 1080p
120 Hz Minimum Refresh Rate
IPS Panels
Multiple Angle Support
Skinny Bezels (The Edges Of The Screen)
Wide Color Gamut And Hdr Support
Built-in Webcam
The Best Brands To Stock In Your Shop
LG
Gigabyte
Alienware
Samsung
Acer
You can also get your custom branded gaming laptops from Asia for affordable prices and build your dominance in your local market. This will require some capital upfront but can be very successful in the long run.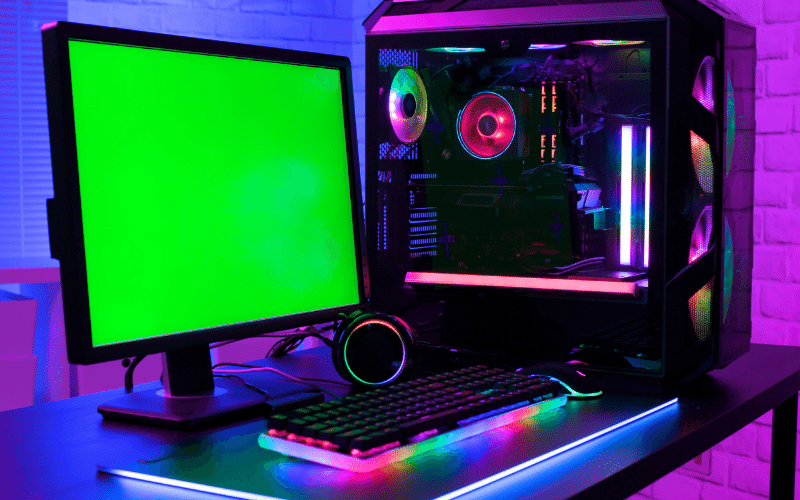 4. Gaming Headsets
Gaming headsets are something you can dropship. Yes, brands matter here too. But many small headset manufacturers also do an excellent job making affordable yet good-quality headsets.
When looking for headsets, check if they have the following features:
Surround Sound
Hi-Fi
Good Microphone
Is Light And Easy To Wear
Has Thick Ear Cushions
Offer Bluetooth Support (This Is Optional If You're Only Planning To Sell Wired Headsets. But Of Course, Having Bluetooth Ones Is Far Better)
Is Compatible With Vr Devices
The Best Brands To Stock In Your Shop
Also, source a wide range of colors and styles of headsets if your budget allows. Gamers aren't just about quality and specs. They also like to flaunt their gaming gear, and stylish headsets let them do that.
You can also partner with a manufacturer and get custom branded gaming headphones for your store sourced from India or China.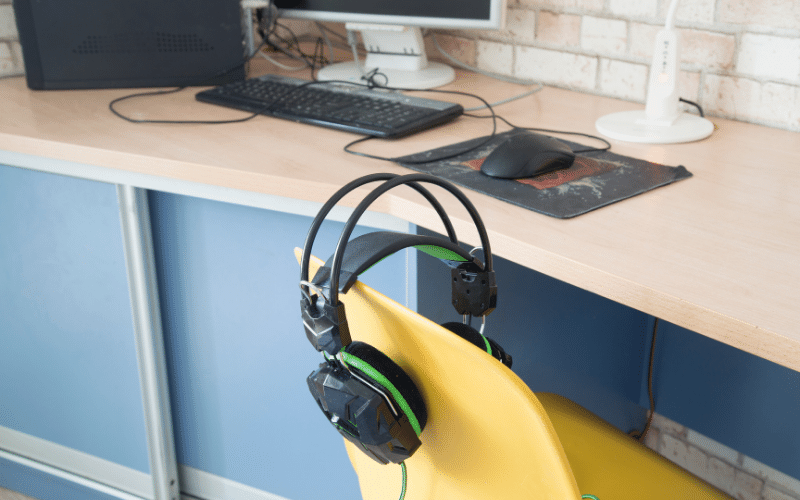 5. Gaming Keyboards
Gamers like to use mechanical keyboards when playing because they're more comfortable to use and have better specifications. Today, the market is flooded with good-quality gaming keyboards with RGB backlighting. In fact, this market alone is worth over $3 billion.
When you're sourcing gaming keyboards for your business, make sure you check to see if it has the following features:
Fast Response Time, Feedback, and Anti-Ghosting Capabilities
Durable
Lightweight But Not Flimsy
Programmable Or Macro Keys
RGB Backlighting
The Best Brands To Stock In Your Shop
Corsair
Logitech
G Skill
Keychron
You can use smaller manufacturers from countries like China to source your gaming keyboards for your store. However, if you're looking to sell high-end products, it's best to stick to reputed manufacturers.
The gaming keyboard market is vast and has a variety of customers, which offers an excellent avenue for you to enter this competitive market and carve a name for yourself.
6. Gaming Mice
Gamers are very particular about the kind of mouse they use. And why wouldn't they be? Along with the keyboard, the mouse is the most critical control when they're playing.
The key to sourcing good-quality gaming mice is looking for a balance of price and features. The mouse shouldn't be too expensive, but it should be comfortable and look good.
Keep in mind the following gaming mice features while trying to source them for your shop:
Excellent Accuracy
Lightning-Fast Response Rate
Smooth Movement
Good Sensors
The Best Brands To Stock In Your Shop
Gaming mice, too, are best when sourced from big companies like Logitech and Razer. These manufacturers guarantee quality. However, you can build your own niche if you source gaming mice from smaller manufacturers and sell them under your own private label.
7. Gaming Desks
Gaming desks are another essential item in a gamer's den. These heavy-duty desks are stronger than usual tables used at home or in offices. That's because they have to hold heavy computers and other gaming equipment.
Check your gaming desks carefully for the features mentioned below before finalizing a sourcing deal.
Should Be Sturdy. The Ones Made Of Metal Or Wood Are The Best.
Should Have Ample Space. L-Shaped Gaming Desks Are The Most Popular Because Of The Amount Of Space And Convenience They Offer.
Adjustable Height And Removable Drawers Are Always A Plus.
The Best Brands To Stock In Your Shop
For gaming desks, too, you can contact small suppliers, provided that they meet the quality standards. This is an untapped market and has huge potential, especially if you're just starting out.
Conclusion
Understanding the gaming industry and the latest trends in it is crucial to forming a successful eCommerce business in it. You need to know what customers are demanding at any given time and how to best get it to them. And once you do, use our recommendations above to stock up your store with the best gaming gear.
Do not forget to focus heavily on marketing. You'll face tough competition from the existing e-commerce platform. But brilliant marketing will go a long way in fighting off the competitors. Still have questions about sourcing products for your gaming business? Comment below, and we'll answer them ASAP.